Cindy Clark
Cindy has been writing for over 20 years and has a wide knowledge of fantasy, urban fantasy and science
Read More
Prefers
Fantasy
Urban Fantasy
Sci-Fi
Avoids
None!
Kim VanderHorst
Kim is an experienced and kind developmental editor. Maybe because she's a mom. Maybe because she's Canadian. But she has a knack
Read More
Prefers
Fantasy (All Kinds)
Science Fiction
Dystopian
Horror
Humor
Dark
Quirky
Middle Grade
Young Adult
Adult
Avoids
Historical
Military
Nonfiction
Sara Olds
Writer, mother—grandmother now too!, teacher, traveler and equestrian—Sara believes in making the most of the great loves in her life.
Read More
Prefers
Romance
Action Adventure
Murder Mysteries
Fantasy
Historical
Science Fiction
Military
Young Adult
Childrens
Avoids
Horror
Dark
Erotica
Lynn Brown
Lynn Brown wrote her first book at the age of 6, (a fantasy!) to the wild acclaim of her kindergarten class. She's been helping other writers get their words out into the world ever since.
Read More
Prefers
Scifi
Fantasy
Romance
erotica
LGBTQ+ stories
nonfiction
Avoids
Horror
Domestic violence
Racist violence
Trisha Tobias
Trisha Tobias is Associate Fiction Editor for FORESHADOW: A Serial YA Anthology, a freelance editor, and a 2018 Walter Dean Myers Grant recipient.
Read More
Prefers
YA
Middle Grade
Fantasy
Contemporary
Light Sci-Fi
Thriller/Suspense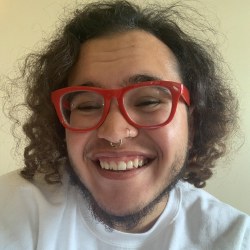 Ravi Teixeira
Ravi Teixeira is a Cape Verdean American and transgender cartoonist, editor, sensitivity reader extraordinaire!
Read More
Prefers
Anything!
Avoids
Gory violence
Non-consensual sexual content