Welcome to week 2 of our Flash Fiction Contest with the theme of GIFT.
Read the winning entry for week 1 right here!
Here's how it works:
Every Monday we announce that week's theme
Every Saturday we close that week's contest at midnight PST
Each entry must include that week's theme, and be no more than 200 words in length
You must be following Salt & Sage Books on Facebook, Twitter, or Instagram in order to be eligible to win
Prizes
Weekly prize: $20 voucher or 10% coupon for Salt & Sage Books, announced on Sundays
Grand prize: $100 or 20% off voucher, announced December 31st
Winners will be featured on our blog and on social media
FAQ
I entered last week, can I enter again? You betcha!
My piece is just over 200 words. Can I stretch the word count? Nope. Please make it 200 words or less.
Where do I enter? Link below!
Ready?
Let's go!
FLASH!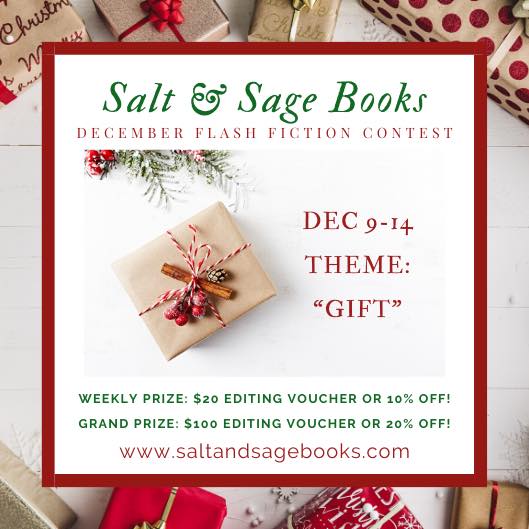 December 8 - 14: GIFT
https://docs.google.com/forms/d/1oxoIPCevWhRIvDjnw_CFBeKnqtTDNFhZrGcinnCWZHA/