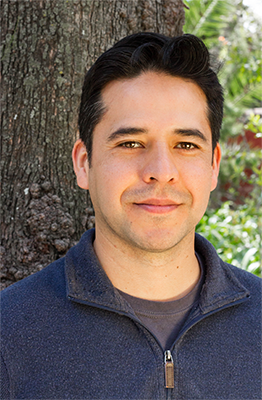 Duncan Tonatiuh is an award-winning author-illustrator of several picture books, including Dear Primo, Separate is Never Equal, Pancho Rabbit and the Coyote, Funny Bones, and The Princess and The Warrior. Many of Tonatiuh's stories illustrate Mexican and Mexican-American history in his signature style, inspired by Pre-Columbian Mixtec art. Duncan's accolades include the Pura Belpré Medal, the Sibert Medal, and the The New York Times Best Illustrated Children's Books Award.
---
Sachiko Burton: Your books are both timeless and topical, and are noted for how invitational they are. How have you cultivated that? Can you tell me about the experiences you've had with children responding to your work and taking action?
Duncan Tonatiuh: I think picture books can be about difficult topics like immigration or segregation. The challenge is making sure that young readers can relate to the work. Pancho Rabbit and the Coyote, for example, is a fable. Kids enjoy reading it because it is suspenseful, and it reminds them of stories like "Little Red Riding Hood" or "The Three Little Pigs." But the book is also an allegory of the dangerous journey that migrants from Central America and Mexico often go through to come to America.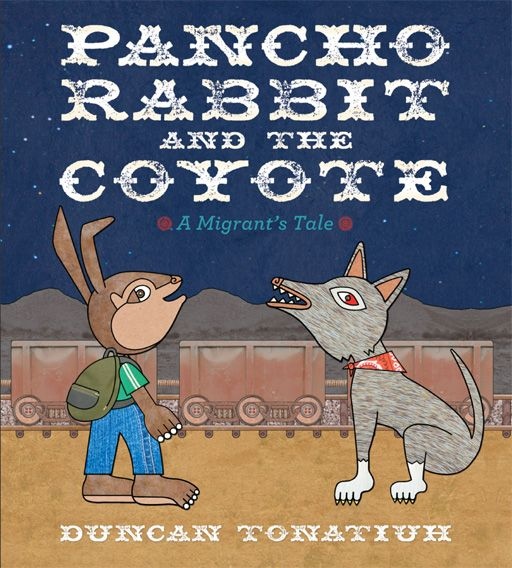 One of the most rewarding experiences I have had as an author-illustrator is when a group of fourth graders shared with me a video of a multi-voice poem they wrote about their own border-crossing experiences. They made it after they read Pancho Rabbit and the Coyote. Here is a link to the video: Our Journeys: A Multivoice Poem. It is very moving, and it made me feel encouraged, because I felt my book helped them know that their voices and experiences are important. I think that books have that power. We need diverse books where young readers see themselves reflected.
SB: I read about a Snowy Day mural you created in Akron, Ohio with students. You said:
The third reason is that I wanted to play with text as illustration. I wanted to integrate at least a few of the kids' words in the mural. I asked them what winter sounds and feels like to get poetic answers. It was a lot of fun reading through them. Some answers were very evocative, "winter sounds like little sprinkles falling to the ground," and some were very funny "winter looks like a world made out of slushie." It was fun to look at their writing too. Kids have great handwriting. Their letters are like drawings.
This all delighted me, but especially what you said about kids' letters being like drawings. First, as a teacher and a mom, I love this about how my kids physically shape their letters. Secondly, it sounded to me like you were describing something like Mixtec–something pictographic and highly contextual.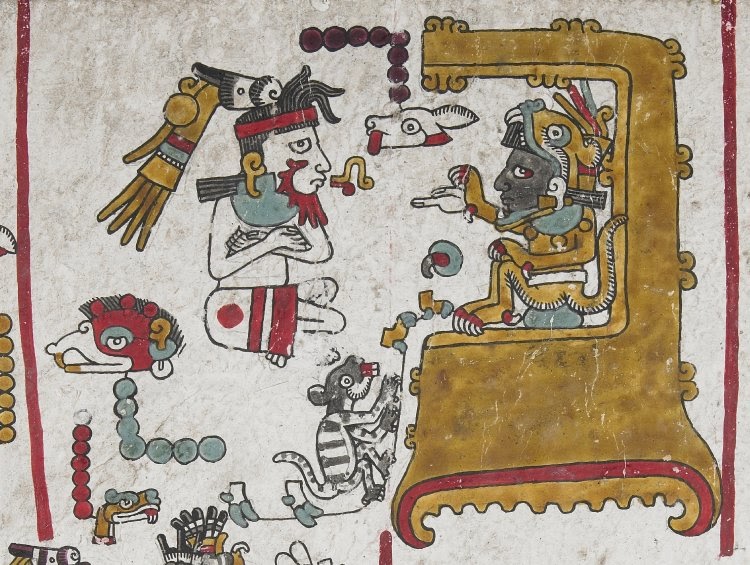 I love how you've taken this stunning visual language from pre-Columbian codices and shared it with so many.
I'm Japanese-American, and kanji is a highly contextual written language, which is sometimes difficult for non-native diaspora like me to learn, especially if we've grown up outside Japan. Your style is unique and sophisticated, combining ancient aesthetic and modern tech, for something that feels incredibly fresh and accessible, especially for those of Oaxacan heritage.
What was your experience with getting to know the Mixtec codices that have so influenced your wonderful style? Joys, challenges?
DT: I grew up in Mexico and I remember seeing images of pre-columbian art in my school's textbooks. I was not particularly interested in them though. Growing up, the things that motivated me to draw were comic books and anime. It was not until my senior year in college, after I had lived in the U.S. for many years, that I became interested in the ancient art of Mexico.
I was working on my senior thesis at my design school in New York City. For my final project I decided to make a short graphic novel about a Mixtec friend of mine I had met at a worker's center where I sometimes volunteered. Mixtecs are an indigenous group from the southern part of Mexico: from the states of Oaxaca, Guerrero and Puebla. There is a large Mixtec community in the tri-state area.
One of the first things I did when I began working on the book was go to my university's library and look up Mixtec artwork. In books I found images of Mixtec codices from the fourteenth century. I was struck by their geometry, repetition of color and by how flat and stylized the drawings were. I decided I would draw in a similar way and make a modern day codex of my friend's journey from his small indigenous village in Mexico to his life as busboy in a large American metropolis. I have been drawing in that style since then.
SB: What are some works that make you feel represented? How have they impacted your life, especially as an artist and writer?
DT: There are several authors that really inspired me to write. I remember when I first read a Mexican author named Juan Rulfo when I was in high school. His stories are mostly written in the first person and he uses a lot of vernacular language. I did not realize that you could write like that and after I read his books I felt very motivated to write and do something similar in my stories.
Later when I was in college I remember reading Drown by Junot Diaz for a fiction-writing class. His stories are in English, but he includes Spanish in his stories. I identified with his work because I sometimes combine both languages when I talk or think. I felt very energized after I read him, and I began including Spanish when I wrote in English.
SB: How do you decide which projects to take on? What excites or scares you about them? Is there something you can tell me about your next project?
DT: I always have several projects I am working on. When I write a manuscript, I share it with my editor. Sometimes he likes it, but often times he turns it down. Not everything I write becomes a book. From time to time I try to revisit an unsuccessful project I worked on before.
My upcoming book is called Feathered Serpent and the Five Suns: A Mesoamerican Creation Myth. It is an Aztec creation story that involves the god Quetzalcoátl, the Feathered Serpent. I wrote the first draft of the story about five years ago.
In my first draft, I tried to include all the different myths that Feathered Serpent is associated with. I shared it with my editor and he thought the story was too long and confusing. I put the manuscript away and worked on other projects.
About two years ago I decided to revisit the story. This time, I focused on one myth only. It is the story of how Feathered Serpent goes into the underworld and retrieves the sacred bones in order to create humanity.
I shared the new manuscript with my editor and he liked it. I had to revise the manuscript many times—I always do—but it is now a book. I am very happy with how it turned out. It will be available in September.
SB: I love your messages to children. Is there a message you'd like to give to fellow authors and illustrators, especially those starting out?
DT: Be persistent and patient. It takes time to gain success in any career. I was pretty lucky that right after I graduated from college I signed a contract for my first picture book. A professor at my university really liked my senior project. She thought my art was very good, and introduced me to an editor at Abrams named Howard.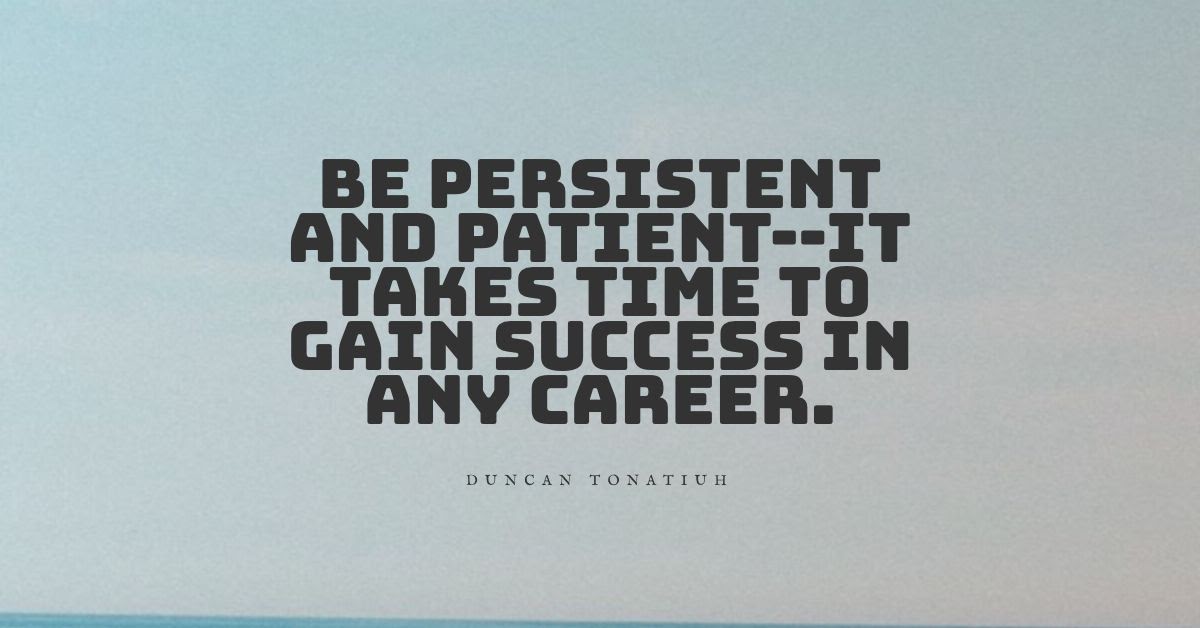 Howard thought my project was interesting but that it was not quite right for publication. The book had an odd format. It folded like an accordion, because that is the way the Mixtec codices fold. Howard focused on publishing books for young readers, and my project was aimed at adults. He liked the artwork a lot, and told me that if he received a manuscript that paired well with my illustrations, he would give me a call. He would like to work with me.
I told him that I liked writing too, and that I was taking some writing classes at my university. Maybe I could write the story. He told me some very basic things about picture books, gave me his email and said that if I wrote something I could send it to him.
Some time later I had an idea for a book about two cousins—one that lives in a rural community in Mexico, and one that lives in an urban center in the U.S.—who send letters to each other about their everyday lives. Eventually it became my first published book, Dear Primo: A Letter To My Cousin.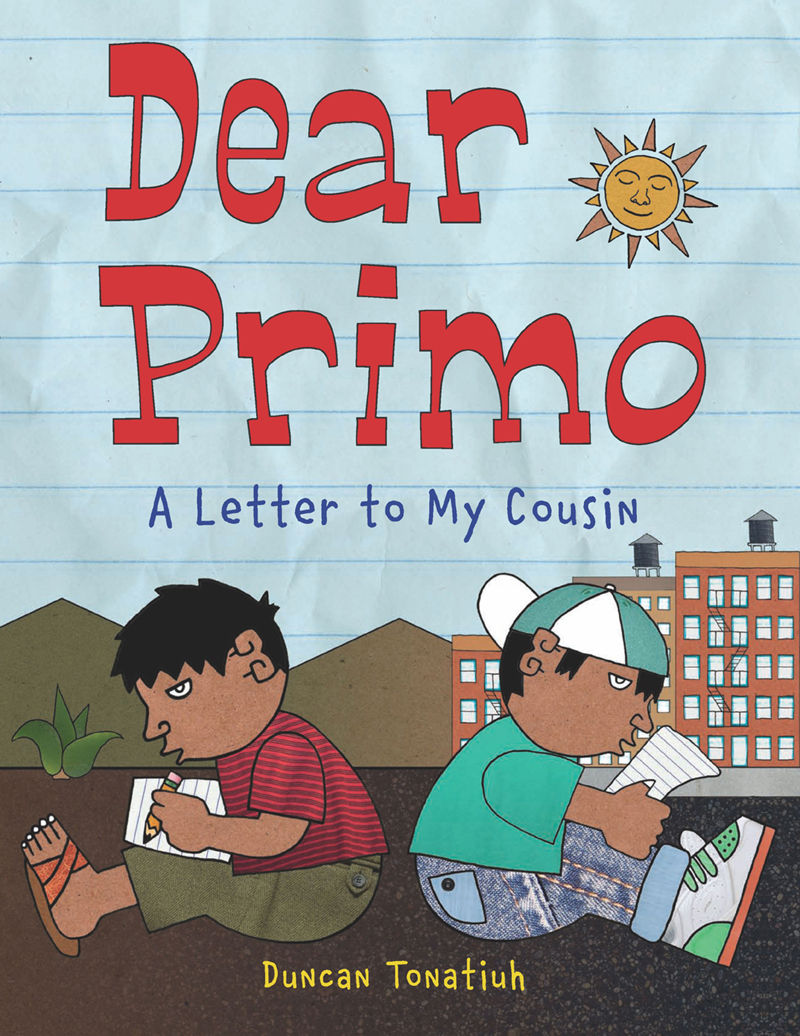 I wrote another manuscript after that, and Howard turned it down. I had assumed everything I wrote would become a book, but that was not the case. I had several other manuscripts rejected before I was able to get a contract for my second book.
In the meantime, I had several odd jobs so that I could make a living and pay my student loans. I walked dogs, babysat kids, painted houses, assisted a wedding photographer and I taught English as a second language at a small Montessori school in Mexico. At times I felt frustrated because I could not make a living from my art alone.
As I published more books, more people became familiar with my work. Now I am able to make books full time and provide for my family. I have been working with Howard and Abrams Books for more than ten years now.
In 2018 I was able to publish Undocumented, the book that began as my senior project. I still constantly get projects rejected though. And I always have to revise my work. It can be frustrating at times but I know that it is part of the process, and that the books are better because of it.
SB: What advice would you give to writers who are working to discover or retain their heritage by trying to create a similar synthesis?
DT: In my work I find inspiration in the art of the past, but I also try to make my art feel contemporary. Some of my books take place many years ago, but I also tell stories that take place in the present.
For my illustrations, I draw by hand, but then I collage my images digitally. I use textures from things I scan or photograph, or from images I find on the internet. You can see how I do it in this short video: Drawing Digital Textures. Hopefully the result is an interesting combination of something that looks a bit ancient, but also modern.
I encourage other authors and artists to do something similar. Take a tradition from your culture—it can be visual, musical, gastronomic, etc—and find a way to reinvent it, to make it more modern so that it reflects today's world.
Thank you for visiting with us today! It's been a pleasure.
To learn more about Duncan and his books, please visit his website here: Duncan Tonatiuh