In the weeks of social distancing, we have come to understand self-isolation and maintaining six feet of distance from one another when we step out to do essential duties. We see the tape on the floors of drugstores that indicate where we should stand and wonder what time of day the grocery store might be least crowded. We wonder when we will be close to other human faces, hug our loved ones, and casually walk down the street without dodging each other like a video game scenario.
The practice of physical distancing can lead to the thinning of relationships and distancing of emotions. Gone are the lunch dates, birthday party gatherings, and walks outside. We rely on online platforms to maintain our communities, but it is exhausting to participate in hours of video conferences. The connection can be draining instead of stimulating like catching up with someone over a drink or in the park. The remaining—but virtual—threads to our community are less appealing.
I work with high school students. Though I saw them every day at school, they rarely turn on their cameras for our virtual conferences. I say, "Nobody looks cute on camera. We're all in this together." I say, "But I saw you at school." Still, the students do not want to show their faces. They fear judgement, screenshots, and even the images of their faces reflected in the small window on the top-right portion of the screen.
While high school students, experiencing hormonal growth, are naturally insecure about their appearance, adults follow suit. What is this new level of communication in which we showcase ourselves and a corner of our homes on camera? We might hesitate to turn on the camera when we are in sore need of a haircut or cannot find a suitable background. We might not want others to see our tear-streaked, sallow faces. For remote work, we scramble for the most-professional and least-personal part of our residence to be our backdrop, pushing children and pets out of frame. Or, we rely on the Zoom background of the Brooklyn Bridge, outer space, or the beach, which might feel more comfortable than revealing a section of our bedrooms. Video conference dates with friends and loved ones can fall to the wayside as our sleeping and eating schedules get thrown off. Email threads become forgotten. We lose track of the days.
In this time, it is easy to emotionally isolate.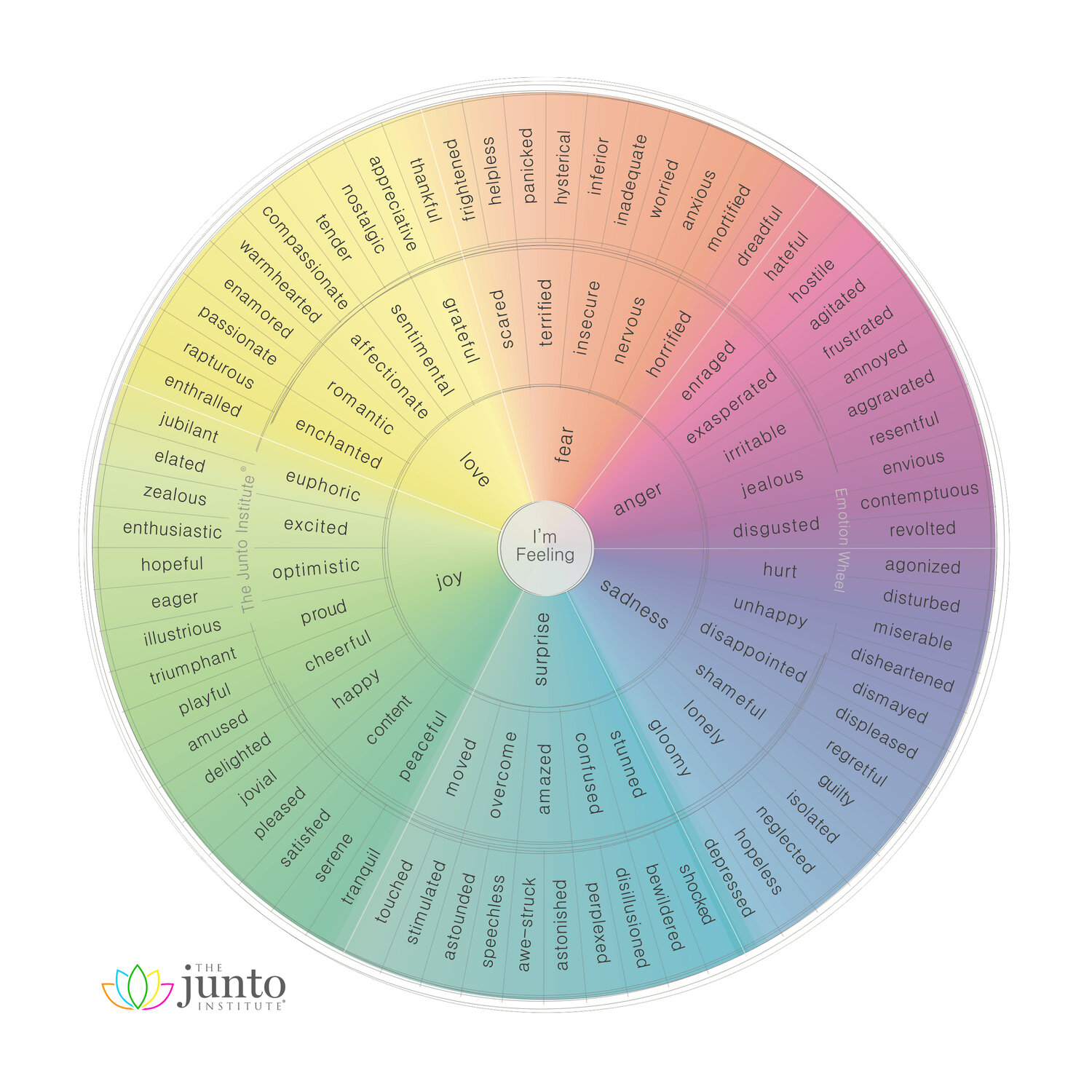 The Emotion Wheel and Why We Use It
I was looking at the emotion wheel, developed by psychologist Robert Plutchik and redesigned by the Junto Institute, as I wondered how to write anything at all during this pandemic. Expressing myself meant probing my emotions, which I was not sure I was ready to do. I was afraid that if I acknowledged them, I would give them power, enough to enable their consumption of me.
• I do not want to discuss my anxiety about the increasing number of deaths and hospitalizations, which include people I know.
• I do not want to think of the chorus of ambulance sirens outside my window.
• I do not want to discuss my guilt that I am not doing enough to help my community and those in situations more dire than mine.
• I do not want to think about the suffering healthcare officials and all others providing essential services, who work at breakneck speed and do not have time to pause because they are not receiving adequate support from government officials.
• I do not want to think about how I am afraid this isolation might grow comfortable for me and how this frenzied state of isolation may become my norm. Will I eventually expect this? Will I lose my hope for anything else?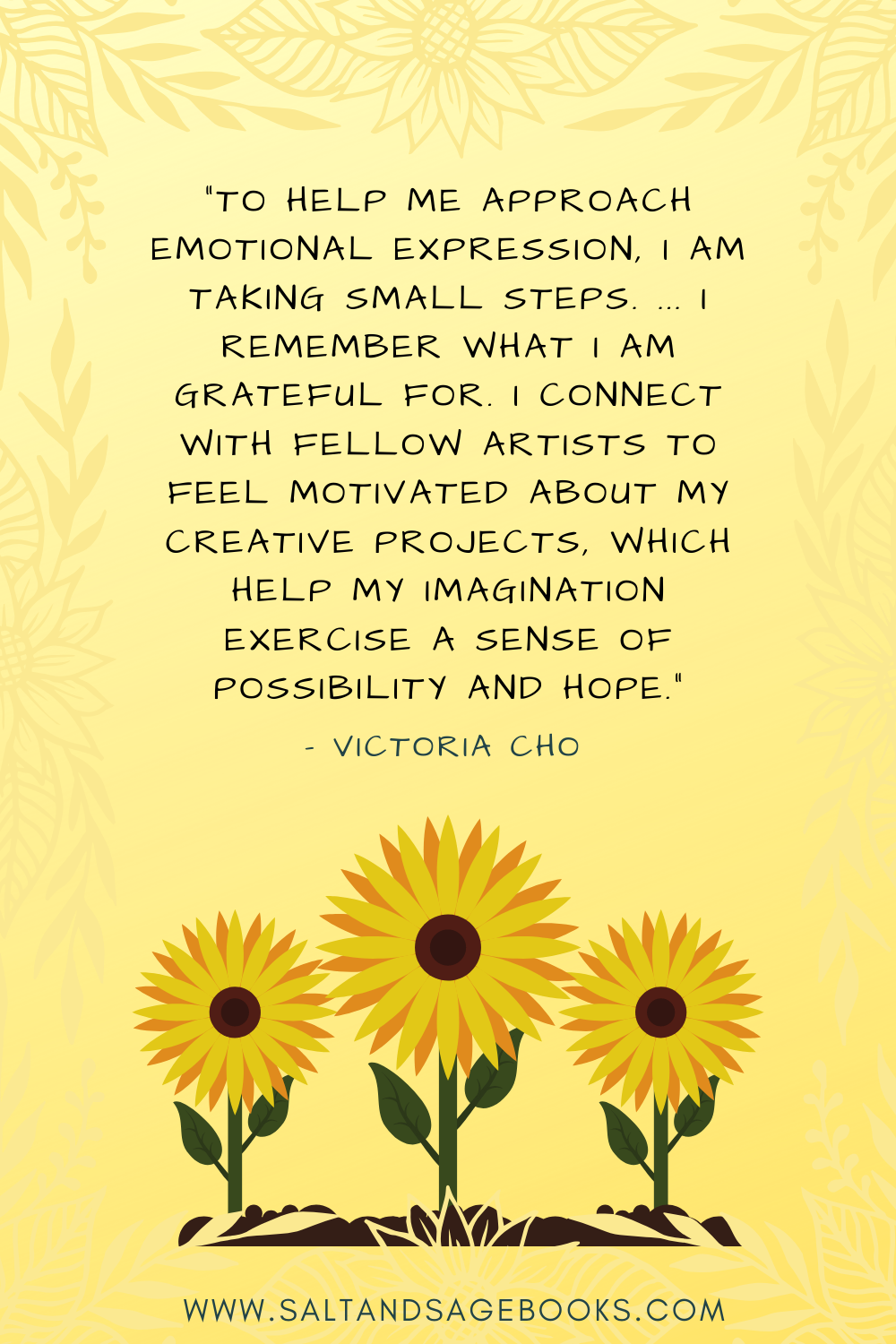 To help me approach emotional expression, I am taking small steps. I speak with my partner, a supportive listener. I took an online creative-writing workshop. I focus on concrete data from trusted sources to help me understand the facts about the virus. I watch meditation videos. I do therapy. I read. I watch television. I share lists of resources on food and internet access, grant opportunities, housing, and physical and mental wellness. I remember what I am grateful for. I connect with fellow artists to feel motivated about my creative projects, which help my imagination exercise a sense of possibility and hope.
I am in the privileged place of having employment, safe housing, and sufficient food. How can we all help create a just system in which everyone has these basic needs met? And on top of that, how can we maintain emotional connection and support so that we can feel connected, validated, and seen?
During the times of a pandemic, we might lose sense of ourselves. Have an identity crisis. What are the touchstones in our lives that help us tether ourselves back to our beliefs and our perception of the world?
This is a worldwide pandemic, not a Chinese virus, and we have to rely on our communities to ensure everyone's physical and emotional needs are met—with or without the Zoom outer-space background.