Hi, Carling! What drew you to Salt and Sage?
I was at the Kanab Writers Conference talking to someone about how I write reviews for Lambda Literary (a great resource for LGBTQ+ book lovers!), and one of the lovely people from S&S approached me! Everything that I've learned about this company, I like. The decision to work with them was a no-brainer.
What do you do with Salt and Sage? (example: book coach, line editing, sensitivity reader, etc.)
I'm a sensitivity reader, and I'm so excited to metabolize my trauma into helping others write more realistic characters. I've also done an expert read using my science and legal backgrounds.
Where do you live, and what do you like about that?
I live in Salt Lake City and I LOVE it. My wife and I have lived in Manhattan, Brooklyn, Connecticut, and Colorado, and we've never felt safer than we do in SLC. We're the 11th queerest city per capita in the country, according to Wikipedia. Plus, there's amazing food all over the place, from all over the world—there's even a restaurant incubator run by the local chapter of the International Rescue Committee to help refugees and asylees start their own businesses. There's overall a really cool, friendly vibe here.
Where did you grow up?
I grew up in Murray, Utah, about fifteen minutes from where I live now, but the Salt Lake County I grew up in and the Salt Lake City I currently live in are EXTREMELY different!
Where do you wish you could live?
Honestly, I'm really happy here, but I did live for a few months in small-town Finland, and I would really love to go back there.
Tell me about a usual day in your life. Your average Tuesday or Wednesday, maybe. (Basically, how does writing/editing figure into your daily life?)
Before quarantine, most days, I would wake up and go to a Pilates or yoga class—I had a slipped disc last year, and it was horrible, so now I do everything I can to keep my core strong. On Tuesdays, I facilitate a writing group for refugees and immigrants, and that's usually pretty fun. Next, I'd often go to a coffee shop with my laptop or a book, because sometimes it is hard to kick-start your work when you work from home. Often, my wife and I meet up for lunch, because she also works from home. In the afternoon, I'm more likely to read than write; right now, I'm reading Danse Macabre by Stephen King, because my WIP is a horror novel and I know nothing about the genre. I also tend to stay at home in the afternoons so that my rabbit can run around the house instead of being cooped up in his house (though he's a dwarf and the house is two stories, so my wife thinks he's rarely cooped up at all). Sometimes I make dinner—I've gotten really into pot pies lately—and then we either watch TV (we're rewatching Alias, which actually has very good spycraft along with its incredibly implausible storylines) or a movie, or we play video games. We like to play cooperatively, not competitively, so we team up against computers in Mario Party or play this game where I solve puzzles and she throws turnips at my enemies. I take my meds around 8:45, so I'm usually asleep by 10:00.
Tell me what you love about one of your favorite books.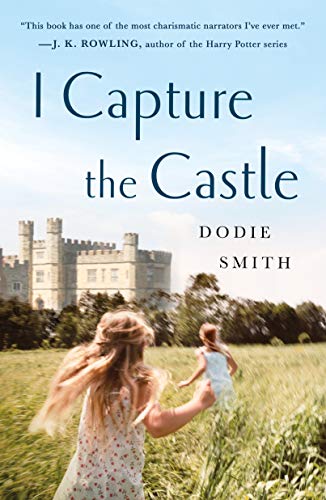 Is this where I get to recommend I Capture the Castle by Dodie Smith? It's written as a series of diaries and it's BRILLIANT. The physical makeup of the book (the divisions of the diaries) is actually really significant to the plot, the world is thoroughly developed and intriguing on its own merits, the protagonist is lovable but she sometimes does terrible things, the characters are well-developed (except in the case of one character, for whom it is very important to the story that he is not fleshed out too thoroughly). I love it so much and I recommend it to everyone. Literally. A contestant on The Voice responded to one of my Instagram stories and I recommended it to her.
What was the first moment you wanted to be a writer?
I can't actually remember! It was my big dream when I was a little kid to write the Next Great American Novel (which was very like me—I was incredibly theatrical and dramatic in my internal monologues). Then I majored in biology in college, because I got a B in AP Biology and felt like I needed to show biology what I could do, and that led me to meandering through my twenties with no real focus. I had a big suicidal episode around my thirtieth birthday, had to quit my job, and in the recovery period I decided to actually give writing a try.
What scares you about writing?
I read 9 Perfect Strangers recently and had a panic attack when I read that one of the characters had written seventeen books, or something like that. Her plot point was that her most recent book had been rejected, but the rejection wasn't what freaked me out—it was the idea of getting through the next twenty years and producing that much content. (My suicidal ideation is often linked up with how long life seems.)
What do you love about writing?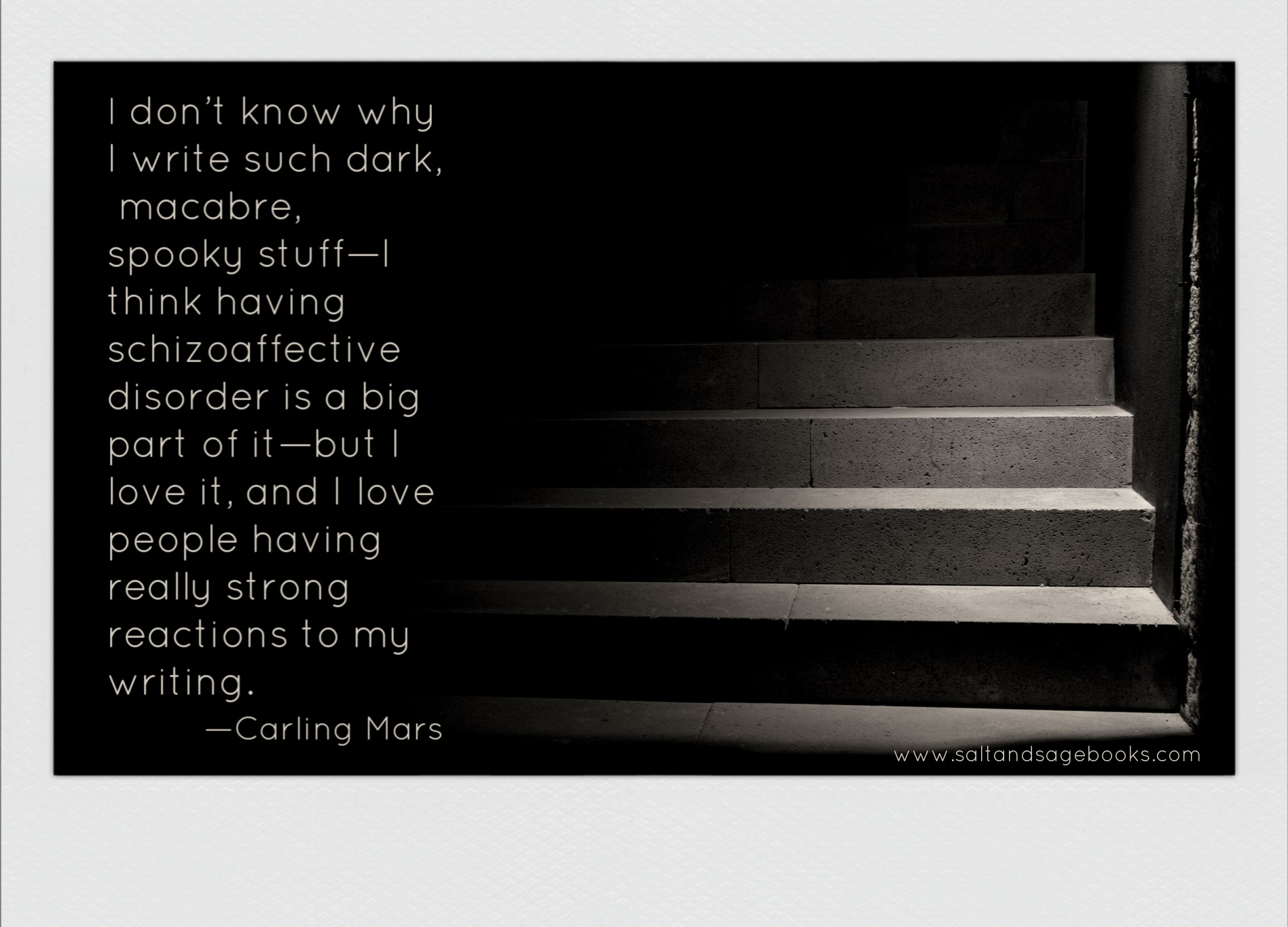 I love that I'm good at it, and I love how much people care about my characters, and I absolutely love creeping people out. I don't know why I write such dark, macabre, spooky stuff—I think having schizoaffective disorder is a big part of it—but I love it, and I love people having really strong reactions to my writing.
What's your writing process like? (Plotter? Pantser? Somewhere in between?)
For my first novel, I was a total pantser, and now I have so much work to do on revising it that I've pushed it to the furthest back of all my burners. So now that I'm working on my second novel, I'm all about plotting. I thought that plotting would kill my creativity, but it's actually been a huge help creatively.
You've got a writing/editing deadline. What do you do? (Strategies, rituals, playlists, etc.)
I start first thing in the morning, right after I wake up, before breakfast, before pants. If I can get going first thing, my momentum will last through the entire day, whereas if I get sidetracked and do literally anything else, I'll have to pack everything up and go to a coffee shop to get the ball rolling, which will eat into my actual productive time and also my wallet. I have ADHD and if I can get going first thing, I can often trick myself into hyperfocusing. Then I'll definitely finish my project, though doing things like eating and drinking water and moving at all will suffer.
What's your favorite resource for editing?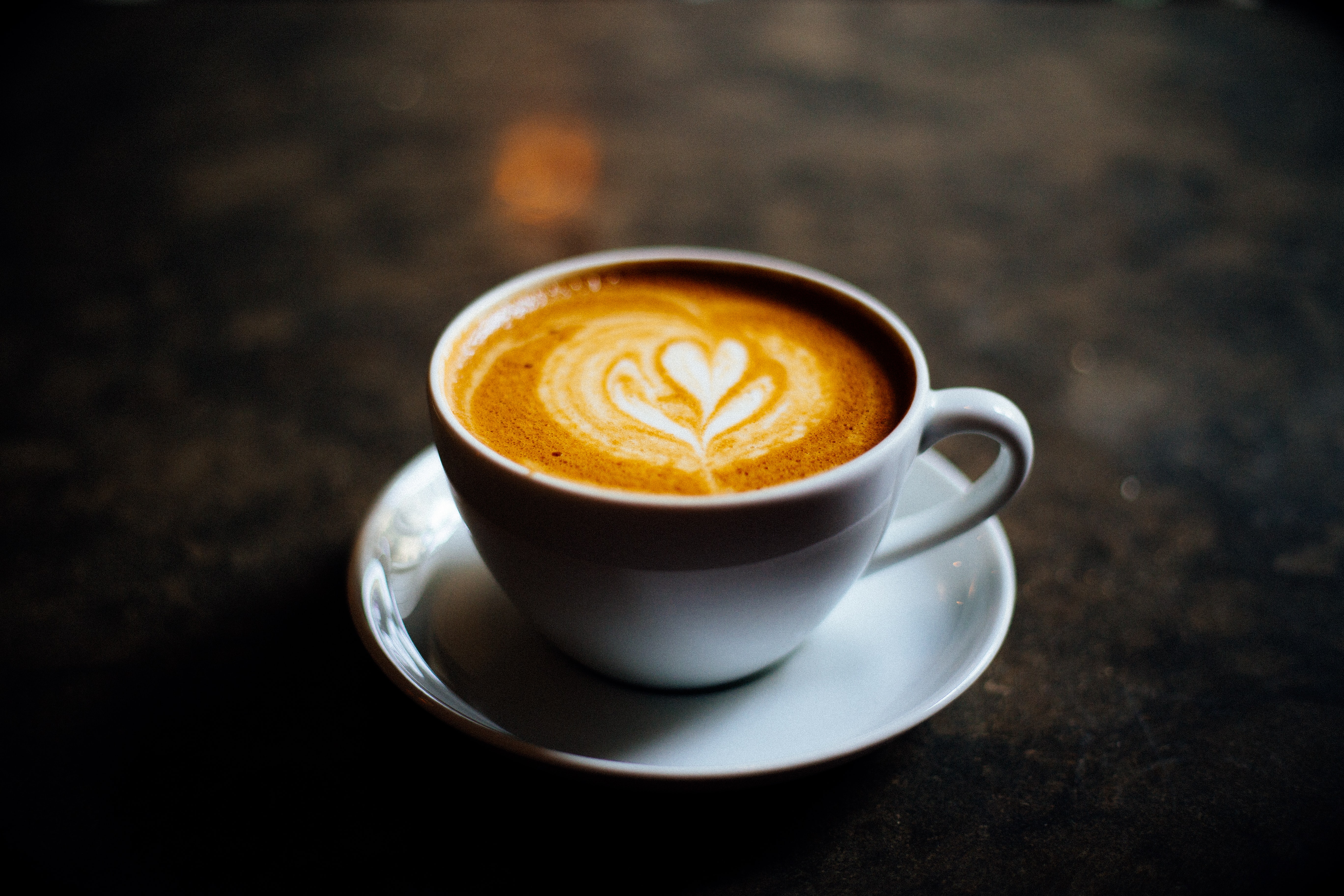 Coffee.
What thing about writing, specialty reading, or editing, do you not want to have to say to someone, but that you feel people need to know?
In terms of spoons, it's pretty expensive! People might think that because it's a pretty stationary activity, it doesn't take that much effort, but your brain is in overdrive when you're creating or editing. It can be really exhausting.
What do you love about sensitivity reading?
I love helping people make their worlds and characters more realistic and helping them add more depth. It can be really hard to write someone who's very different from you, and it makes sense that you'd need a hand getting the details right. I know that for the novel I'm working on, I'm going to need/want multiple sensitivity readers.
What do you hope is the next big change or awesome trend in the writing/ editing/ publishing industry?
That sensitivity reading becomes a necessary step instead of one that only some people take.
What change or trend are you enjoying or disliking?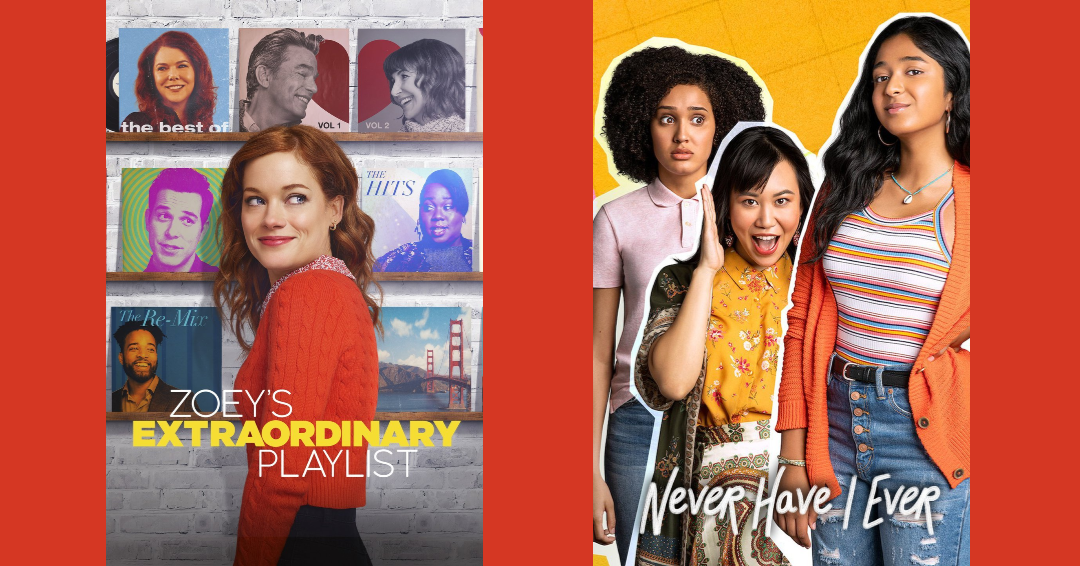 There's a mini trend in TV (Zoey's Extraordinary Playlist and Never Have I Ever) where the guy gets the girl to fall for him by performing selfless acts of service for her and not expecting anything in return. I hope that is a feature we see in more media going forward!
What would you love to do to make that awesome change happen?
I think incorporating selfless acts of service into my romantic subplots is a great step in the right direction!
What are you passionate about that you wish more people knew about?
Disability rights (nothing about us without us! Or as some people are saying now, nothing without us).
What's your favorite quote?
"Caring for myself is not self-indulgence, it is self-preservation, and that is an act of political warfare." —Audre Lorde
This interview is part of our Salt and Sage Books Spotlight series. We welcome you into our creative community by inviting you to meet our editors and expert readers, and to hear a little of their stories in their own words.
We believe that by honoring each other's voices, we're able to turn creativity into community and change the world through story. Thank you, Carling, for sharing some of your story with us today!