It's Salt & Sage Books' second birthday! Thank you so much for being part of our editing family. We appreciate the energy you all bring to your edits, the intentionality with which you include diversity, and the changes you are making in the world because of who you are. We brag all over that we have the best clients, and we mean it. You all are the best!
Every year, the Editorial Freelance Association comes out with a pricing guide. To ensure that we value our incredible editors and sensitivity readers and to stay competitive in the editing market, we make commensurate price increases annually. This price increase will go into effect on April 1, 2021.
Here are our current prices. You can book between now and April 1, 2021 and receive these rates. You'll see the third column with a price for a 50k piece.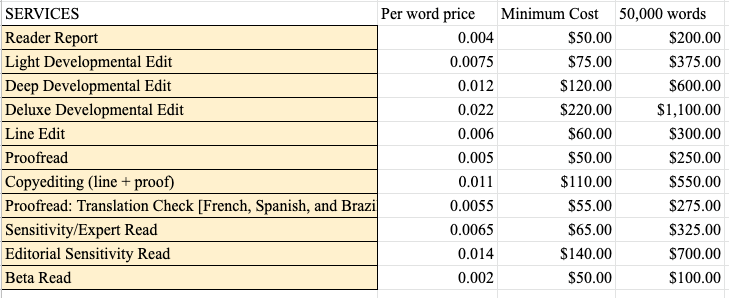 The new price structure, which will go into effect on April 1, 2021. If you book on or after April 1, 2021, these will be your prices.
To get a quote for your specific project, please fill out our consult request form. Please be advised that several of our editors are booking into July; we would encourage you to get on the books if you have a project coming up.
For questions or last minute bookings, please contact our inbox team at hello@saltandsagebooks.com.
All currently booked appointments with signed contracts will maintain their original pricing.
We are happy to work with such great people, and are grateful for your continued support.