Girl, Woman, Other, Taye: a Review of Girl, Woman, Other by Bernardine Evaristo
by Taye Timko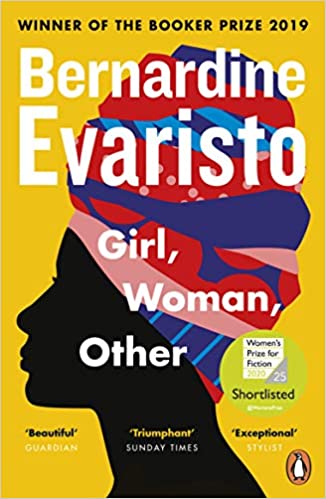 As an avid reader and ever-changing individual, I have often felt stuck in the middle of the "aisle"—virtual or literal—of my local library or in my digital bookstores trying to decide what aspect of my identity to explore. Internally, the reader of this article may think "Oh snap, you have aspects of your identity to explore in modern media and literature!"
But in my eyes, I only see pieces of myself. The barren shelves whispered "intersectionality." Fragments of who I am were represented, but not a complete person. Even worse, when novels do write about a multidimensional queer person of color, they often fall flat and clearly written outside the perspective of the writer. My friends, a diverse collection of amazing people, have read novels that have inspired them to change their lives—like The Misadventures of an Awkward Black Girl by Issa Rae. Or in college, I remember my roommate reading Fight Club and going on a thirty-minute tirade on how it "reflects the bastardization of the American dream" and somehow showed her the light in how to conquer capitalist America.
I didn't want a novel to do exactly that, but I wanted to feel connected. I wanted to feel the spark I felt when I first read Carmilla by Sheridan Le Fanu and realized that I, too, would be okay with a hot vampire lady seducing me into her harem. Or the conviction and drive to conquer racism after reading Ta-Nehisi Coates's Between the World and Me, which explores the life of Black men in America. So I have been able to explore my queerness, and with another novel, my Blackness. But where was my novel about a queer, Black person who may have struggled to articulate those struggles? I wanted my Black gay coming-of-age story, and I was tired of combing through and looking for scraps. I didn't want the snack; I wanted the full-course meal.
"Due to COVID-19" is a phrase that at this point would make the most patient of people roll their eyes, but due to COVID-19, a queer book club I started attending in my area had gone virtual. They had chosen a brightly patterned novel for my first month: Girl, Woman, Other by Bernardine Evaristo.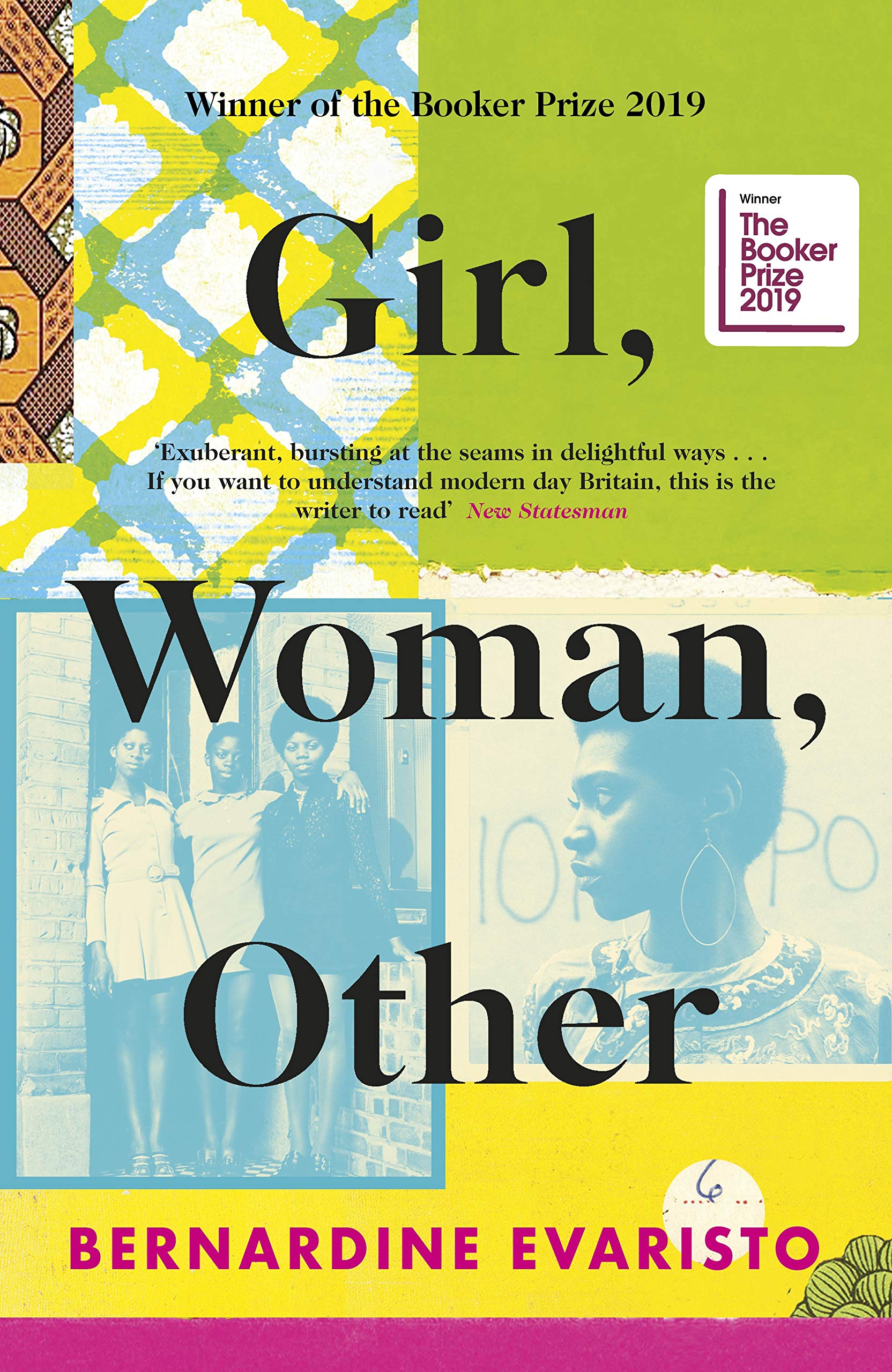 I wanted to make a good impression, so I ordered the book and a new package of sticky notes. When they arrived, I set up a station on my bed and consumed that novel in a week.
Now, as a person who can either read over three hundred pages in one sitting or one year, I was impressed that one book was able to hold my attention for so long. Furthermore, it was written in poetry form! Now, I love rhyming as much as the next person, but I will admit I will cringe a little whenever an educator told me we were about to start a unit on poems. I had sat at the table and was pleasantly surprised by the buffet that was placed before me.
The novel Girl Woman Other by the award-winning British writer Bernardine Evaristo explores the lives of twelve characters united by the struggles of the modern woman or queer person. This novel, written in prose, offers an insightful perspective on a variety of different types of relationships. Amma, a sex-positive polyamorous Black lesbian struggles to make it in the theater world while also raising a daughter and maintaining her romantic and platonic relationships. Her best friend falls in love with a problematic beauty that whisks her to the States. Amma's daughter, Yazz, is a sarcastic and strong-willed child, trying to navigate her way through college and understanding her privilege. The readers witness a beautiful transformation of a person of color struggling to balance gender identity and traditional African culture through Megan, eventually Morgan—a "gender-free" self-identified person.
Each character introduced makes the reader fall a little bit more in love with Evaristo as she shines the spotlight on a group of characters who are not often explored and developed as fully realized characters. Evaristo takes time, respect, and humor to describe the lives of these multifaceted people. She tells the lives of their loves, losses, and drama all in a novel written in verse. There is a character or characters for every reader that will make them feel seen. This literary vision gives queer feminine people a voice that, until now, has not been given in such a vibrant, dynamic, and engaging way in this author's literary canon.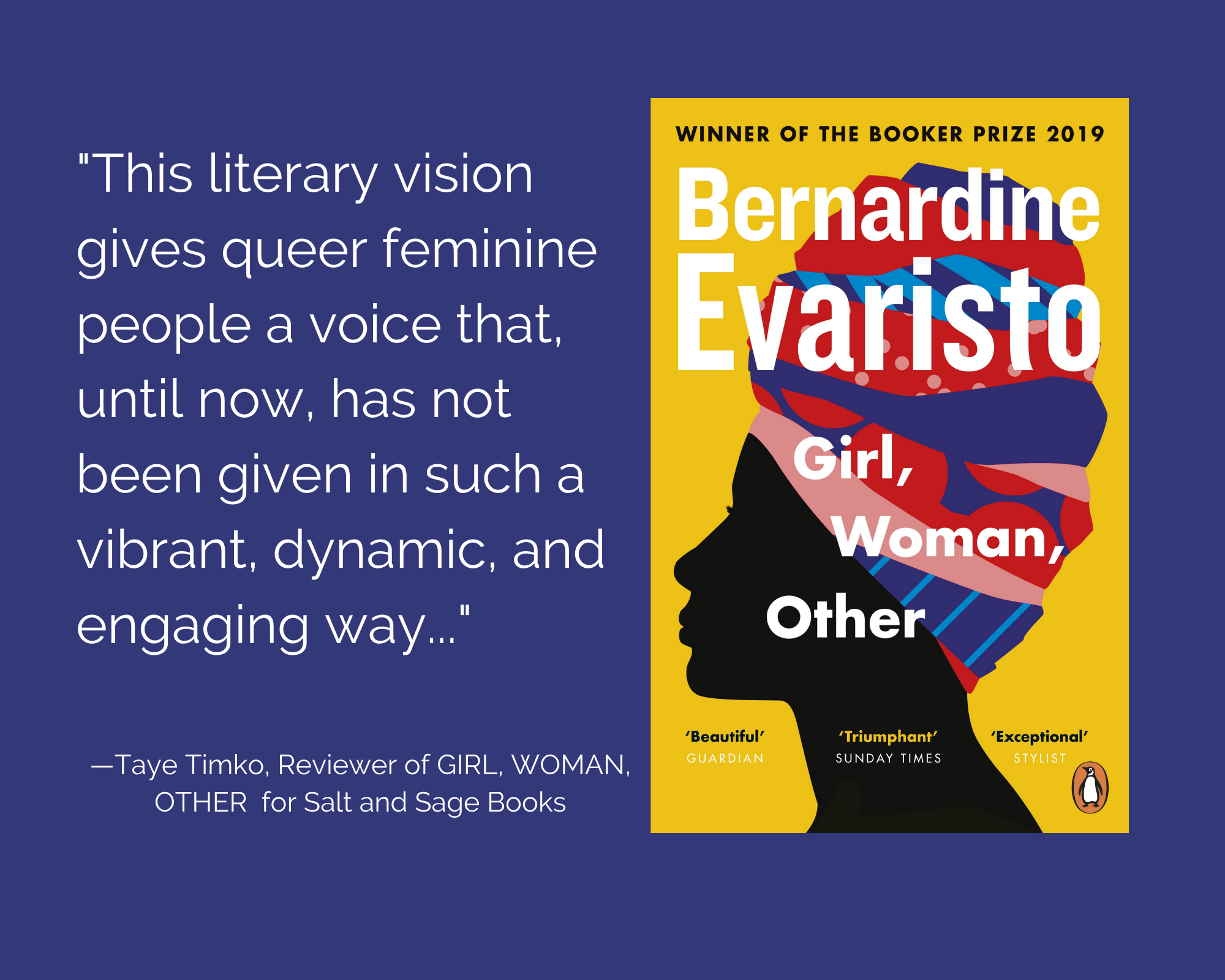 After reading this novel, I have thrown it in everyone's direction who has given me the time of day. My aunt even had requested a novel to help understand my perspective as a Black person (I am biracial and she is from the white side of my family). This novel places both a narrative and experiences that I have lived in this novel. One scene of Amma, clearly my favorite character since I have brought her up the most, is her attending a Black lesbian gathering where she finally feels connected to other lesbians in the city. But then through a bad interaction with another woman, she is once again forced to find other solace in the world of straights. At that moment, I was taken back to my own college experience of talking to one person, it not going well, and having to walk away from one of the few places that offered me some community in a PWI in Southern Maryland. Therefore, If you want a novel about intersectional everything Black, look no further.
Purchase Girl, Woman, Other here or wherever books are sold.
If you'd like information about obtaining a sensitivity read from Taye, request a consult here.