Hello everyone!
Welcome to our annual price update.
This post has a lot of information, so here's the TL;DR:
New rates are in the table below
Prices go into effect on April 4, 2022
All edits now have a baseline 4-week turnaround
Salt and Sage Books is turning three this year! From a small company operating out of a single spreadsheet to one with multiple departments, managers, and over 60 employees, we are so proud of how far we've come. We are deeply proud of the work we do with big-five publishers, top-shelf video game companies, and some of the best indies in the business. Thank YOU for helping us become what we are today!
As we do every year, the administrative team at Salt and Sage Books has taken a close look at our prices compared to market value and have made some adjustments. We always want you to know where we are and why we've made the decisions we have, so let's dive right in!
A more detailed (and less pretty) table is at the bottom of this post.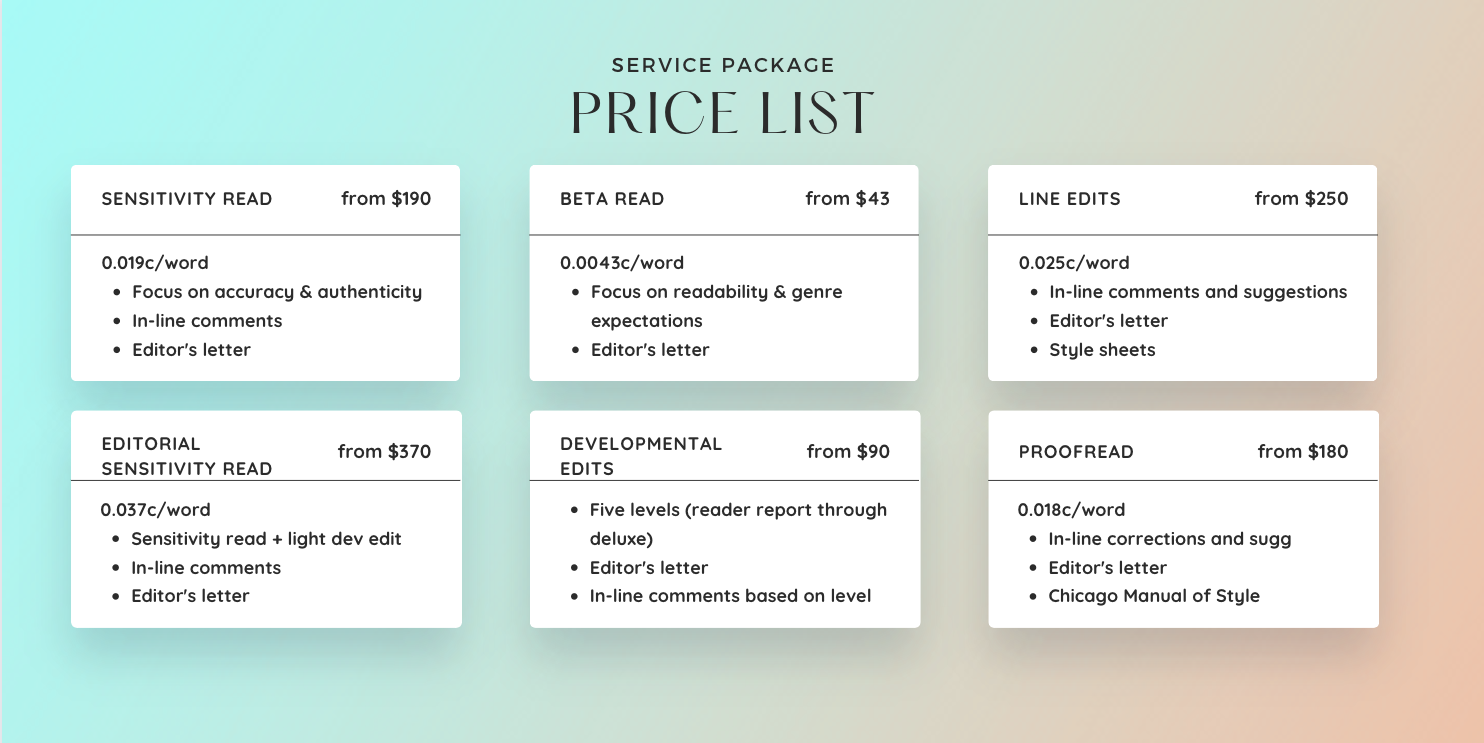 New Timelines
To better serve our clientele and our editors, we are adjusting our standard turnaround time from three weeks to four weeks.
We know that many of you need faster turnaround times for your projects and are also introducing ultra-fast turnaround times for projects under certain lengths. Please let our inbox team know that you need a quicker turnaround and we will do what we can to accommodate you.
FAQ
How do I book?

Fill out the form or send an email to hello@saltandsagebooks.com.

When do these prices go into effect?

April 4, 2022

What about my current edits?

All current edits retain their originally booked prices.

Can I book at your current prices?

Yes! Any booking made between now and April 3 will receive our current pricing, with a cutoff date of May 1, 2022.
This means that if you book tomorrow for April, you will get the old prices. If you book tomorrow for June, you will get the new prices.

Some of the edit prices have increased quite a bit. Why is that?

One of the hardest parts of having a service-based business is making sure that our employees are fairly paid for their labor. In the case of editorial work, it's even harder to estimate the emotional labor for any given piece, especially with sensitivity reads! We're grateful to the EFA for their market research so that we can help ensure equitable compensation for our excellent editors.

What's the deal with all the different tiers of developmental edits?

These are split into five tiers so that you can get the feedback you need on a variety of budgets. Each increases in depth and content–you can see more detailed information on our website!

Is there a tiered way to do a sensitivity read?

You can always send in an outline to be sensitivity read if having your whole project read is cost-prohibitive. In fact, we'd highly recommend starting with having your outline looked at!
You can also send in excerpts and a synopsis if that is more cost-effective for you.

Do you offer payment plans?

Yes! We can work with you up to 6 months in advance to get your edit financed. Just ask!

What's new about your line edits?

You'll still get our highly detailed in-line edits, and all line edits now include industry-standard style sheets, character trackers, and other as-pertinent-to-your-project documents that help with continuity.
Salt and Sage Books is also working towards providing courses for those who want to work towards self-editing their manuscripts, learn more about diversity in writing, and have an interest in all things writing. Keep an eye out for those in the future!
We have additional Incomplete Guides underway for tentative release in late 2022. Be sure to follow us on Amazon for updates on those projects.
Thanks so much for your trust in us in the past, and we can't wait to work with you again.
A more detailed table: