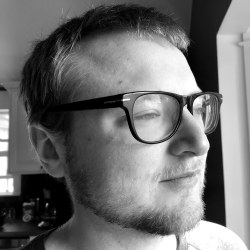 Cameron Van Sant is an editor who wants to see every writer succeed. He has experience editing creative works, professional reports, and academic writing. His attention to detail and his thoughtful advice guides writers to make their work that much more impactful, entertaining, and provoking.
His published work can be found in places as varied as Lightspeed Magazine and INTO Magazine. He was also published in Capricious Magazine: the Gender Diverse Pronouns Issue, which was placed on the James Tiptree Jr. 2018 Honor List. He lives in Sacramento, California with his partner.
Sensitivity / Expert
Transgender men
Pansexual, gay, lesbian, bisexual, queer, and questioning sexualities
Non-binary genders
Gender questioning
Christian Protestantism, ex-Christians
Preferred Genres
Anything!
---
What Clients Say
format_quote
I loved working with the team at Salt & Sage Books. They were so helpful, supportive and educational. As an indie author its encouraging to have their services to ensure I am putting my best work forward.
format_quote
From my first inquiry with Salt & Sage it has been smooth sailing. After a discouraging experience with another editor, and a month of looking online for an editor that suited my needs - I was lost. My inquiries were left unanswered, the cost too exorbitant or the vibe was just wrong. Until I stumbled across a meme posted on Instagram by the Salt & Sage page. The "OMG! That's so me!" moment had me clicking on their page and discovering an Editing service, which I had almost given up hope of finding one that gelled with who I am as a writer. To me - it is fate that brought me to Salt & Sage, and from the first time I spoke with Erin, I was sold. The process, from of finding an editor amongst the team that suited my novel to booking in my dates, was seamless. As a self publishing author, it really took all the guess work out of the process. I felt like no question was stupid or too small, and that they really took the time to get to know me, and what I was after. I look forward to working with the team again in the future and creating more books together.